Tickling the Ivories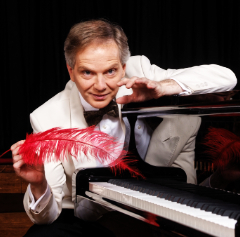 A musical romp through a hundred years of comedy song
Following on from his highly successful comedy song revues By George! and Quirkish Delight, actor, pianist, singer and general one-man band Michael Lunts presents this potted 'history' of the comedy song, mining the archives from the 1870s to the 1970s, from Gilbert and Sullivan to Tom Lehrer, from Music Hall to Monty Python.
While offering a fascinating overview of the comedy song, in all its variety, 'Tickling the Ivories' is, as its name suggests, first and foremost a musical entertainment, a smile-inducing, laughter-engendering entertainment, as Michael works his way, and his fingers, through ten decades of musical wit.
Alongside songs by Noël Coward, Flanders and Swann, Cole Porter and the Gershwins, Michael offers up some less familiar gems from the genre.

One man, a white jacket, 88 piano keys and a treasure-trove of musical mirth, 'Tickling the Ivories' is a show that is guaranteed to tickle anyone's sense of humour.