Quirkish Delight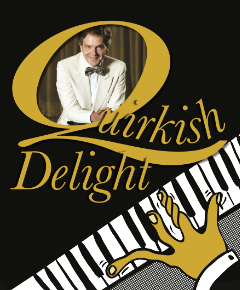 A celebration of the art of Comedy Song
'Quirkish Delight' is an intimate revue of comedy songs, a confection of deliciously witty lyrics and music, served up for your delectation by Michael Lunts, one of the UK's most experienced and widely-travelled pianist-performers.
The entertainment is timeless, quintessential musical cabaret, drawing on the very finest comedy songs in the English language, from both sides of the Atlantic, from Tom Lehrer to Noël Coward, Cole Porter to Flanders and Swann, with songs both familiar and unfamiliar, including some from Michael's own pen that carry on the tradition of comedy song revue, a tradition that is surely, in these straitened times, ripe for revival!
Michael performed the original 'Quirkish Delight' revue for many years with his late colleague and great friend, Roger Leach. Their regular runs of the show at Salisbury Playhouse attracted sell-out houses for the Christmas season. Michael may be a solo performer these days, but the spirit of the original show, in all its many incarnations, remains in this latest version, which is dedicated to the memory of Roger, himself a master of the comedy song.

"In this hey-day of alternative comedy, a polished, witty, cabaret-style show is hard to come by. So to discover 'Quirkish Delight' was a pleasant surprise. Musical styles are as varied as the changing tone of the lyrics, and Lunts demonstrates an easy, beguiling mastery of the piano and a talent for mimicry which brings out the wealth of comic characters lurking inside the songs."
The Stage
"... genuine wit and genial nostalgic sophistication."
The Guardian