Roger Leach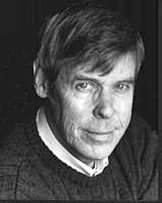 Roger Leach, long-time collaborator with Michael, sadly died in 2002.
The following obituary appeared in The Stage in January 2002.
Roger Leach died on December 1st 2001, aged 53, after a four-year battle with cancer. He was born in Sydney, Australia, and read English at Sydney University, where he also excelled as an oarsman and athlete. He came to England in 1971 on a scholarship to the Central School of Speech and Drama.
He stayed in this country and made a highly successful career as an actor. He may be best remembered as 'Sgt. Penny' in The Bill, a part he played for six years. But he was a powerful and popular stage actor, appearing in 42 productions at Salisbury Playhouse (where he worked for five successive Artistic Directors), and in theatres all over the country. Outstanding roles included 'Lambert Le Roux' in Pravda, 'Rev. Hale' in The Crucible, 'Scrooge' in A Christmas Carol, 'Bluntschi' in Arms and the Man, 'Subtle' in The Alchemist, 'Claudio' in Measure for Measure and 'Colin' in Ashes - the performance which led him to be invited to join The Bill.
He appeared in the West End in The Case of the Oily Levantine, and at the Royal Court in Gimme Shelter. Lately he had been carving out for himself a reputation in the maturer roles in major musicals: 'Uncle Max' in The Sound of Music, 'Captain Brackett' in South Pacific, the 'Narrator' in The Rocky Horror Show, 'Doolittle' in My Fair Lady and, most recently, 'Peachum' in a tour of The Threepenny Opera. For eighteen years he toured with Michael Lunts in their two-man show, an evening of comedy songs (several written by themselves), entitled Quirkish Delight.
Roger was also a very talented director, as well as teaching Shakespeare text and audition technique at three leading drama schools. He loved working with students, and always delighted in their future professional success. An excellent writer, he co-wrote episodes of Moon and Son, EastEnders and The Bill, a comedy thriller for local radio and two stage farces.
Just two weeks before his death he appeared with the Sarum Chamber Orchestra reading from Beethoven's letters, and he was looking forward to starting rehearsals for Donkeys' Years at Salisbury Playhouse in January.
This list of Roger's accomplishments is less than half the story. He was a wonderfully loving husband, father and grandfather and the most generous and loyal friend and colleague. He has left a huge gap in many lives, and now there will be fewer laughs.
Thank you, Rog.
Colin Wakefield