The Edwardian Cello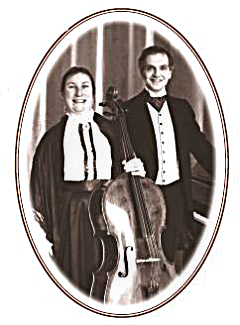 with
Miss Melanie Dennerly, Violoncello
and
Mr. Michael Lunts at the Pianoforte
The Titanic has recently sunk on her maiden voyage and you are invited to join the 'Great Tottering Music Society', which is hosting a concert in aid of the Titanic Relief Fund.
With the Suffragettes making their voices heard throughout the land, how appropriate, if still a little daring, to have a female cellist presenting the programme!
Musically, however, this is still very much the age of Gilbert and Sullivan and of Edward Elgar.
The cello is becoming a more popular solo instrument on the back of such pieces as Saint-Saëns' The Swan and Mendelssohn's Songs without Words, as well as Mr. Elgar's own Salut d'Amour, all of which feature in this nostalgic and witty musical entertainment recreating a bygone age.
Mr. Lunts even promises a few vocal items from his extensive repertoire of comic songs from the period.