Melanie Dennerly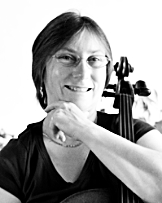 Melanie Dennerly has been playing the cello since she was five years old.
She has had a varied career as a freelance cellist, playing in orchestras such as the Hallé, the Royal Liverpool Philharmonic, the BBC Philharmonic and the Manchester Camerata.
She has also found herself sharing platforms (on separate occasions) with Rod Stewart and Ken Dodd!
She is a keen chamber music player and is a member of two string quartets.
Melanie plays an old English cello, made in London in 1740 by Peter Walmsley.