The Last Ballade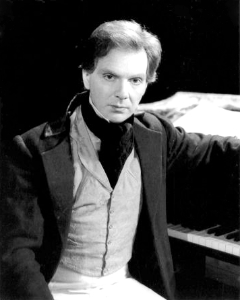 The story of Frederick Chopin and George Sand
A play with music written and performed by Michael Lunts
Directed by Roger Leach
Relive the stormy end to one of the great romantic relationships.
Chopin's music provides the background to a riveting drama about the composer's tempestuous affair with novelist and 'femme fatale', George Sand.

'The Last Ballade' offers audiences a dramatic insight, through the eyes of Chopin himself, into this extraordinary woman who has been variously described as both his muse and his 'vampire'.
Many of the pieces that Sand inspired, including the beautiful Berceuse, the famous 'Minute' Waltz and the F minor Ballade, are played live as part of the action as Michael Lunts portrays both Chopin the man and Chopin the musician in this unique fusion of drama and live music.

"There are not enough superlatives in the dictionary to articulate just how splendid this production is; Michael Lunts delivers a performance, both as an actor and a pianist, that can't be bettered. A masterpiece."
Three Weeks - Edinburgh Festival Review