A Wilde Affair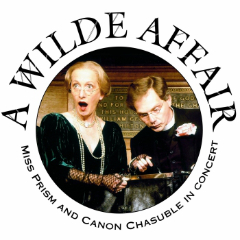 A Comedy With Music
with Susan Flannery and Michael Lunts
Written and Directed by Christopher Owen
Meet two of Oscar Wilde's best-loved characters in their very own show!
Miss Laetitia Prism and Canon Frederick Chasuble are embarking on a concert tour of the British Isles, from Land's End to Lancashire, from Pembrokeshire to Perth.
The couple's musical accomplishments may come as a surprise to members of the public who only know them through Mr Wilde's comedy of manners entitled The Importance of Being Earnest.
Indeed, Miss Prism promises new revelations (prior to the publication of her memoirs) about such matters as handbags, lost babies and the scurrilous accusations of Lady Bracknell!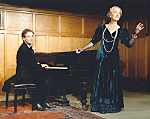 The writer, Christopher Owen, is also a well-known performer and for ten years toured his hugely popular shows A Parson's Tale and Right Ho, Wodehouse! throughout the UK and the Middle East.
'A Wilde Affair', which was also directed by Christopher, is a happy collaboration of his own unique brand of humour and of Susan and Michael's particular musical and dramatic skills.

"A Wilde Affair is a lovely two-hander. The music is delightful and Lunts & Flannery perform with great aplomb. Lovers of Wilde's original will not be disappointed."
Canberra Times, Australia
"As always Susan Flannery and Michael Lunts come up with an excellent entertainment ... an hilarious evening."
Canberra Times, Australia

CDs are still available for this archive revue - please contact Michael