More Tea, Vicar?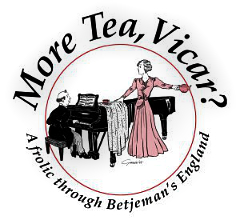 'More Tea, Vicar?' is an 'intimate revue' exploring the eccentric world of Middle England through its arch observer, John Betjeman.
His much-loved poetry here stands shoulder to shoulder with the songs and satire of such contemporaries as Joyce Grenfell, Noël Coward, Ivor Novello and Noel Gay.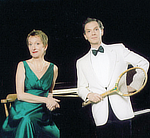 The show has toured extensively to theatres, arts centres and festivals throughout the country and has carved something of a niche for itself in the particularly Betjemanesque settings of Stately Homes and other historic properties, including Weston Park, Coughton Court and the Ellen Terry House in Smallhythe.
It has also proved popular with corporate events and private functions, either in its full 90-minute version or the shorter 'after-dinner' format.

"Deliciously witty ... a quintessentially English flavour superbly captured by this gifted pair"
Newbury Festival Review

CDs are still available for this archive revue - please contact Michael