A Meeting of Minds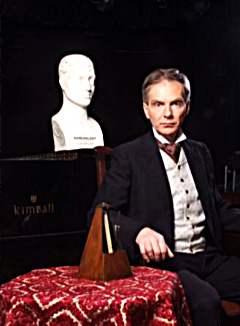 The extraordinary story of Rachmaninov's Second Piano Concerto and Dr. Dahl
Written and performed by Michael Lunts
Directed by Roger Leach
In 'A Meeting of Minds', actor and pianist Michael Lunts recreates on stage the remarkable encounters which took place between composer Sergei Rachmaninov and hypnotist Dr. Dahl, which led to the creation of Rachmaninov's best-loved composition, his Second Piano Concerto.
This work, dedicated to Dr Dahl, is forever associated with the film 'Brief Encounter', forming the surging, romantic soundtrack for it.
However, the story behind its composition is equally as dramatic, a drama this one-man show brilliantly brings to life.
The concerto is played LIVE as part of the unfolding action, following the intriguing relationship which developed between these two remarkable men.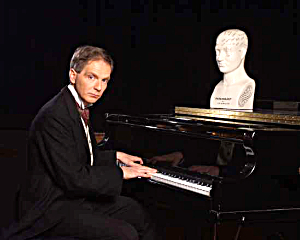 Reviews from the Canadian tour -
"There are legions of talented musicians, actors and writers at work at this year's Edmonton Festival (the largest in North America) but Michael Lunts is probably executing the most dazzling play:
Lunts the WRITER provides us with a detailed understanding of the composer Rachmaninov.
Lunts the ACTOR conveys the all-consuming passion Rachmaninov had for his work.
Lunts the PIANIST translates that with Rachmaninov's music."
Neal Watson (Edmonton Sun, Alberta)
"This play has all the right notes ... England's Michael Lunts strips the stuffiness from classical music in this excellent one-man show; in which he not only portrays Russian composer Sergei Rachmaninov but also plays many excerpts from his beloved music ... for the price of one ticket you get both a play and a concert."
Kevin Prokash (Winnipeg Free Press, Manitoba)