Flanders and Swann Revisited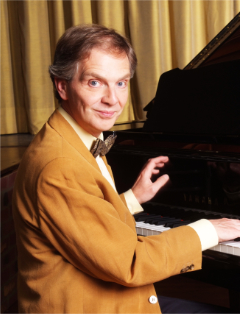 - through the eyes of Sir John Betjeman
Michael has had a life-long interest in the work of both Flanders and Swann and Betjeman, and has incorporated their work in many of his musical revues.
Here, he brings them together for the first time in a partnership that both parties would have approved of (he hopes!).
Laugh away those 21st Century Blues in the company of Flanders and Swann, perfectly complemented by the words and wit of Sir John Betjeman.
Featuring a cornucopia of songs, familiar and less familiar, from 'The Hippopotamus' to 'A Transport of Delight', from 'The Gnu' to 'Have Some Madeira, M'Dear', the songs of Flanders and Swann are, as pianist, actor and singer Michael shows, rooted in that vision of the recent past often called 'Betjeman's Britain'.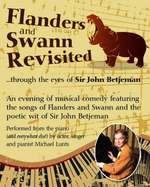 A world where 'Miss Joan Hunter Dunn' unwittingly brushes shoulders with the ill-fated lovers in 'The Honeysuckle and the Bindweed', where Betjeman shares his love of all forms of 'obsolete transport' with Flanders and Swann's evocation of pre-Beeching Britain in 'The Slow Train'.
Wallow, (along with the Hippopotamus!) in a little nostalgia for a by-gone world and the more gentle humour exemplified by these arch-observers of the national character.

See extracts from 'Flanders and Swann Revisited', performed by Michael, on Youtube