Michael Lunts Goes Christmas Crackers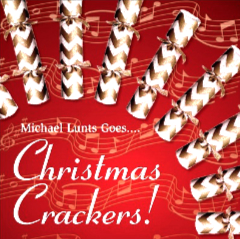 A satirical look at the festive season
Don't take your Christmas preparations too seriously - why not take a little time out from the shopping and the Christmas card lists to enjoy this light-hearted look at the annual seasonal shenanigans?
Michael Lunts, pianist, actor, singer and well-known comedy song entertainer delves into the archives for some classic musical and comic material from the hey-day of satire, all of it given a seasonal twist to offer a much-needed smile to the stresses of Christmas.
Alongside songs from such masters of the comedy song as Tom Lehrer, Jake Thackray, Paddy Roberts, Noël Coward and Donald Swann, there are seasonal offerings from Ogden Nash, John Betjeman and other great wits.
Michael also serves up a few songs of his own and pulls one or two other surprises from his musical crackers!