Roll Over Beethoven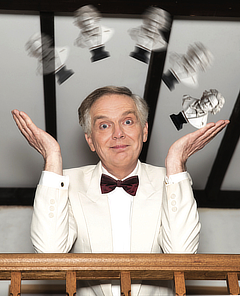 A humorous look at Classical Music
The works of the great composers as you may never have heard them before!
From Alan Sherman's 'Hello Muddah, Hello Faddah' to Tom Lehrer's 'Wienerschnitzel Waltz', comedy song writers down the ages have played fast and loose with the rarefied world of classical music, finding humour in an art-form that can take itself rather seriously.
Classical pianist, singer and one-man show performer Michael Lunts has had a varied career in the worlds of both classical music and musical comedy, performing his innovative one-man 'musical dramas' about the great composers all around the world, alongside comedy song revues such as 'Flanders and Swann Revisited' and 'Coward at Sea'.
In 'Roll Over Beethoven' Michael attempts to bring these two worlds together by celebrating the work of those, from Flanders and Swann to Joyce Grenfell, from Dudley Moore to Gilbert and Sullivan, who have found plenty to laugh about in classical music.
There are even a few parodies from acknowledged classical musicians such as George Malcolm and Percy Grainger (and, indeed, from Michael's own pen) which show that, as Mozart himself famously illustrated, a love of classical music is not incompatible with a sense of humour.